For some time now I have been involved in a collaborative arts project with local illustrator and artist Katie Craven.  Before the first stage of the project could be unleashed onto the unsuspecting public, the project collapsed in on itself thanks to a Belgian art gallery among other things.  To show just how close it got to being finished, there's even a stop press advert for the event in that month's The Skinny advertising it.  As winter begins to leave, the project in its new form is finally nearing completion for the first stage so it's about time I started discussing it.  Late in 2012, I completed the first of a number of ghost stories.  These were short M.R. James style parables transported into the modern world with some added philosophy on life and death added to the mix.
Artwork from A Screaming Breeze by Katie Craven.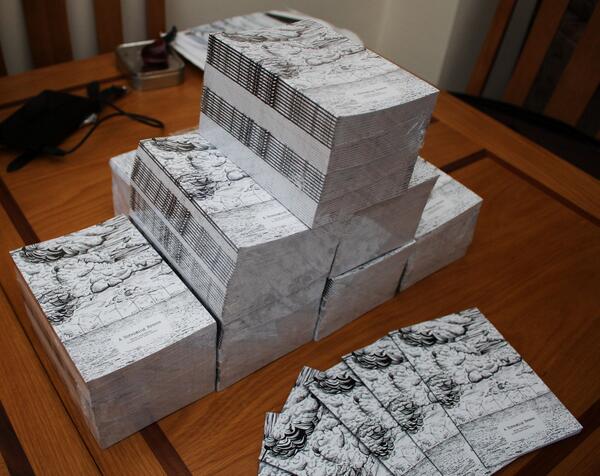 The original plan had been for an exhibition simply entitled "Ghosts"; a show with a published version of one particular short story, A Screaming Breeze, with artwork by Katie as well as a video piece by a now forgotten Belgian artist.  The project fell through in the final hurdle with design and printing of the story being incomplete in spite of the wonderful artwork.  It seemed a shame to waste a collaboration that worked so well so the project changed hands while Katie and I planned another collaboration to fit alongside the story, this time in video form.
Finally now, the project is entering its final stages.  The story has been printed and designed by Sphinx Media which I'm rather happy about as it proves that keeping things local when organising projects is really the best policy.  The venue (which was initially the now-laid-to- rest Drop The Dumbbells) is now supposedly a venue on Renshaw Street which (though this may be subject to change), as I type, is currently being refurbished and Katie is even planning a massive mural based on the short film that is to accompany the exhibition.  However, the sheer scale of that project is still proving difficult so may still be some time before the work actually enters into a gallery space.  The timescale in mind is around Halloween 2014.
The video piece for the exhibition was originally meant to be the video at the start of this article.  With the extra time now afforded to creating more content for the exhibition, I've put Forest (as it's now called) online with the intention of filming a different video piece for the show on Super 8.  This will include artwork title cards which Katie is already part way to completing.
When writing and filming the two different works (the story and my short film) there were a number of constants.  The first was the presence of Brian Eno's On Land album which is desperately evoked in the film's score, only with a few added Lewton Buses.  The others were the ideas of landscape, psychogeography and hauntings in isolated spaces; things that I'm consistently obsessed with and probably will be for a long time to come.  Forest itself is not strictly a film as, like many of my recent projects, everything is made out of photographs (2247 to be exact in the original cuts of footage).  However, the recent upgrade to better software has meant that the illusion of a high quality camera is, on the whole, maintained and it is as close as I'll probably get to being happy with digital film (both my 8mm cameras are currently in the camera hospital).  Katie's title cards for the Super 8 film will of course be sublime but, as yet, are still in the works.
Filming Forest was in itself a challenge.  It is the first film I've had to sit down and properly budget due to several aspects actually costing money, mainly the costume and special effects (which luckily I had learnt to use in previous years being a magician).  It was filmed in North Wales in a very empty forest which only added to the atmosphere I was aiming to capture. This forest was, however, in the middle of nowhere meaning that getting there had to be taken into account too.  Though it's not a narrative piece of film (with its main aim to evoke Aleister Crowley themed hauntings whose words make up the soundtrack) there is a definite trajectory to it which I hope gives the viewers in a future gallery space an extra jolt in what would normally be a passive experience.  I must also thank my poor girlfriend for putting up with the filming which she helped with a lot, though she was well paid in macaroni cheese at riverside restaurant in near-by Lllangollen.
With this experience soon to be unleashed, I'm feeling happy with the results though aware that there is still a lot of work ahead.  It's been in the making for over a year and it will be close to over two years before the show is unveiled completely so if it isn't to work this year then it probably never will.  The story will be for sale in limited number online but will be largely available from the exhibition in October. I'm hoping it will allow the exhibition to travel around with each viewer long after they've left. 

More information on the October ghosts exhibition will be available when dates are confirmed.
A limited number of A Screaming Breeze will be for sale in various outlets and online throughout 2014.
The Super 8 video piece, Tarot, will be finished in Autumn.
Adam.