2021 has been a strange year. I've found it harder than 2020, in spite of getting more work and generally doing more things as we (briefly) returned to normal. It still just didn't sit right. Perhaps it was simply because my previous years have been focussed around big projects coming out like book releases and this year was characterised by sitting on one until its release in 2022. Or perhaps, it's because the last big project was realistically killed by Covid. Either way, I've been kept sane as usual by books, films and the like. Here's a round-up.
Film
Le juge et l'assassin (1976) – Bertrand Tavernier
Mona Lisa (1986) – Neil Jordan
The Small Back Room (1949) – Powell & Pressburger
The Informers (1963) – Ken Annakin
Sbatti il mostro in prima pagina (1972) – Marco Bellochio
Cry Danger (1951) – Robert Parrish
The Ox-Bow Incident (1942) – William A. Wellman
Targets (1968) – Peter Bogdanovich
L'horloger de Saint-Paul (1974) – Bertrand Tavernier
711 Ocean Drive (1950) – Joseph M. Newman
As with every year, I've continued my deep dive into films made between the 1930s and 1980s with around 280 films watched overall. Though I predominantly concentrated on US, Italian, French and British cinema, it has undoubtedly been British cinema that I've watched most, becoming especially addicted to what I've now nicknamed the "Talking Pictures TV" film. It's usually a 1950s/1960s British b-movie of some description, often crime-tinged and with excellent locations and casts. In my top ten, Annakin's The Informers is the prime suspect but there were plenty of others, including John Harlow's Appointment with Crime (1946), Lawrence Huntington's The Franchise Affair (1951), Roy Boulting's High Treason (1951), J. Lee Thompson's Yield to the Night (1956), Sidney J. Furie's The Boys (1962), Robert Hamer's The Long Memory (1953) and John Guillermin's Never Let Go (1960).
Alongside these, I've particularly enjoyed the strange artefact that is the British television film; often watched in dodgy, grainy VHS scans. The fact that they tie in with so much television I've enjoyed as well has been a bonus. This has included Mike Newell's The Man in the Iron Mask (1977), David Greene's The Count of Monte Cristo (1975), Val Guest's Dangerous Davis: The Last Detective (1981), Tom Clegg's Regan (1974) and Michael Dryhurst's The Hard Way (1980).
In terms of American cinema, it has mostly been split between crime and westerns, "Noirvember" in particular proving especially enjoyable. 711 Ocean Drive and Cry Danger were just two of a number of noirs that could have made it into the final ten, with competition from Ida Lupino's Outrage (1950), Edward Dmytryk's Obsession (1949), André De Toth's Crime Wave (1953), Henry Hathaway's The Dark Corner (1946), Nicholas Ray's On Dangerous Ground (1951), Phil Karson's Scandal Sheet (1952), and H. Brice Humberstone's I Wake Up Screaming (1941).
This was supported by some typically effective westerns, of which Wellman's The Ox-Bow Incident was the strongest. Though I've seen a lot of questioning of westerns this year, emanating from dreary social media, it's still a genre that rarely disappoints. Films such as Henry Hathaway's The Shepherd of the Hills (1941), Budd Boetticher's Ride Lonesome (1959), Richard Brook's The Professionals (1966), David Miller's Lonely are the Brave (1962), Joseph H. Lewis' Terror in a Texas Town (1958), and Martin Ritt's Hombre (1967) were all great. Incidentally, the best documentary I watched this year was also American: Penelope Spheeris' wonderful The Decline of Western Civilisation Part 2: the Metal Years (1988).
Considering the dominance of French cinema over the last few years in my end of year reviews, this year is the first that sees the trend starting to wane, having watched just so much post-war French cinema. There's still plenty to go I feel, but the rate of outright classics is starting to slow. In spite of this, Bertrand Tavernier has achieved the rare state of having two films in my final ten, with the utterly stunning pair The Judge and the Assassin and The Watchmaker of Saint Paul. Alongside these were a handful of French gems, namely Robert Enrico's Le Vieux Fusil (1975), Paul Vecchiali's L'étrangleur (1970), Robert Hossein's Les salauds vont en enfer (1955), Agnès Varda's Les cent et une nuits de Simon Cinéma (1995), André Téchiné's Hôtel des Amériques (1981), Jean-Pierre Mocky's Solo (1970), Philippe Labro's L'alpagueur (1976) and Henri Verneuil's Des gens sans importance (1956).
Having drained a fair amount of the French crime flicks from the 1970s, I finally moved on to Italian Poliziotteschi cinema which has been a visceral delight. The best, which is more of a political thriller than a pure Poliziotteschi film, was Marco Bellochio's Slap the Monster on Page One, though vied for place with another Gian Maria Volontè vehicle, Elio Petri's Investigation of a Citizen Above Suspicion (1970). Alongside these, I enjoyed Sergio Sollima's Revolver (1973), Massimo Dallamano's Quelli della calibro 38 (1976), Damiano Damiana's Confessions of a Police Captain (1971) and Umberto Lenzi's The Tough Ones (1976). These were coupled with ticking off a fair few Spaghetti Westerns too, the best of which were Damiano Damiana's A Bullet for the General (1967), Enzo G. Castellari's Keoma (1976), Sergio Martino's Mannaja (1977) and Sergio Corbucci's The Great Silence (1968).
Everything said, I can't help but feel that, with the world crumbling, I've most enjoyed watching sillier films. I've had a great deal of fun revisiting some Carry On's (and ticking a few off not previously seen), having arguably the most fun with Gerald Thompson's Carry on Abroad (1972). Perhaps most of all, I've been in stitches watching Ken Hughes' Sextette (1977) and Michael Schultz's Sgt. Pepper's Lonely Hearts Club Band (1978). If Mae West punning everyone to death or Billy Preston saving Peter Frampton by singing "Get Back" couldn't save the year, then perhaps it wasn't worth saving at all.
Books
The Left Hand of Darkness (1969) – Ursula K. Le Guin
From Hell (1989) – Alan Moore and Eddie Campbell
The Go-Between (1953) – L.P. Hartley
Jack of Jumps (2006) – David Seabrook
Notre-Dame (1831) – Victor Hugo
Ten-Thousand Light-Years from Home (1973) – Alice B. Sheldon
Libra (1988) – Don DeLillo
Death of an Expert Witness (1977) – P.D. James
Butcher's Crossing (1960) – John Williams
The Spy Who Came in from the Cold (1963) – John le Carré
Last year I made a promise to myself. Having been frustrated with literary fiction, I promised I'd stop giving it the oxygen of attention for a time. With this in mind, I've stuck mainly to genre fiction in the 60 or so books read this year.
I've read a great deal of sci-fi this year; my reading dictated by what was published by the likes of Penguin sci-fi, Panther sci-fi, Corgi, Sphere and others. Of these, the strongest was easily The Left Hand of Darkness (1969) by Ursula K. Le Guin and Ten-Thousand Light-Years from Home (1973) by Alice B. Sheldon. Other volumes enjoyed included Tiger, Tiger (1956) by Alfred Bester, Greybeard (1964) by Brian Aldiss, Slan (1940) by A.E. Van Vogt, All the Colours of Darkness (1963) by Lloyd Biggle Jr. and The War of the Worlds (1897) by H.G. Wells. The best short story read was also SF: M. John Harrison's The Lamia and Lord Cromis (1975).
Elsewhere in my top ten, a leaning towards creative crime writing is obvious. Alan Moore and Eddie Campbell's From Hell (1989) was a revelation, as was David Seabrook's disturbing Jack of Jumps (2006) and P.D. James' Death of an Expert Witness (1977). Outside of these, many decent crime novels were read, including Brighton Rock (1938) by Graham Greene, The Rats of Montsouris (1974) by Léo Malet, The Snow was Dirty (1948) by Georges Simenon, The High Window (1942) by Raymond Chandler, The Chalk Circle Man (1991) by Fred Vargas and Nazis in the Metro (1996) by Didier Daeninckx.
Contrary to my prediction last year (of westerns being a genre set to dominate my reading), only one western made it into my final ten the end: John Williams' unforgettable Butcher's Crossing (1960). However, I did read several other decent westerns and enjoyed them thoroughly: Hombre (1961) by Elmore Leonard, Blood Meridian (1985) by Cormac McCarthy and Shane (1946) by Jack Schaefer.
In terms of classics, the strongest was easily Notre-Dame (1831) by Victor Hugo. In terms of "Modern Classics", The Go-Between (1953) by L.P. Hartley and Libra (1988) by Don DeLillo were both majestic. I also enjoyed a volume of Webster and Ford's combined plays, though other classics left me cold.
Finally, the most startling revelation of the year's reading has been John le Carré. Having saved his work for a long while, I finally dived in, having ordered a Smiley box-set during lockdown earlier this year. The Spy Who Came in from the Cold (1963) is not just the best thing I read this year but one of the best novels I've ever read. Equally, I've read the Smiley run of novels from Call of the Dead (1961) to The Honourable Schoolboy (1977), and it's been a phenomenal experience so far. Tinker, Tailor, Soldier, Spy (1974) also gets a mention for being, well, Tinker, Tailor; a brilliant novel that blows apart any remnant of legitimacy in the genre snobbery still confidently espoused by our current literary moment.
Television
Out (1978)
Softly, Softly: Task Force (1969-1976)
Cracker (1993-1995)
Colditz (1972-1974)
Father Brown (1974)
1990 (1977-1978)
Public Eye (1965-1975)
Jack the Ripper (1973)
Harry's Game (1982)
The Sandbaggers (1978-1980)
Unlike previous years, I've actually kept a more detailed track of the television I watched this year. Anyone who knows me well, knows I watch a lot of British archive television; itself an unusual but all-consuming addiction once established. Interspersed in all of the following are various casual viewings; namely old Top of the Pops, To the Manor Born and "Are You Being Served?", alongside, of course, the ritualistic rewatching of classic Who (how Britbox can have the butchered version of Day of the Daleks on there is beyond me).
My year started with the wonderful series Out (1978). Written by Trevor Preston and starring my favourite, Tom Bell, the series is a blistering portrayal of London's underworld. Its location filming is especially glorious, from down-and-out Tulse Hill to leafy Wimbledon. It's really a south London piece and as close to the novels of Derek Raymond as we're likely to get on screen. I'm looking forward to watching the similar Fox (1980) in the New Year.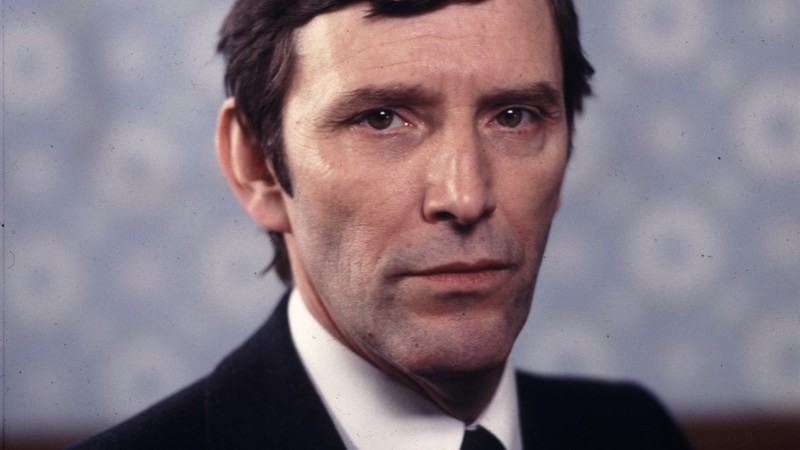 Having binged The Sweeney several years ago, I've been after decent procedurals from the same era for a while now. While some have been great, few have hit the mark so well as Softly, Softly: Task Force (1969-1976). Its first season is sublime, and has a far harder edge than its reputation suggests. I'm looking forward to the second series and hoping the BBC bothers to release the other five. Alongside this was the weird but wonderful Jack the Ripper (1973), a tie-in of sorts in which Barlow (Stratford Johns) and Watt (Frank Windsor) personally investigate the history of the Ripper's East End spree.
In terms of sheer detection, my tastes varied greatly. On the one hand, Jimmy McGovern's Cracker (1993-1995) was a brutal breath of fresh air, even if both of its final specials in 1996 and 2003 were ultimately misfires. On the other, the autumnal delights of the original Father Brown (1974) were a treat, and certainly made me wish Kenneth More had done more than one season. I also watched a fair number of the original Dalgliesh (1983-2005) series with the phenomenal Roy Marsden though they're sadly lacking, hamstrung by dodgy cameras and limited budgets. Only A Taste for Death (1988) manages to overcome its limitations though Marsden is great as always.
Talking of which, Marsden was also the lead in The Sandbaggers (1978-1980), another unforgiving but brilliant series watched this year. It sits up there for me with Callan and Tinker, Tailor in terms of capturing the grubby, heartbreaking realities of espionage during the latter end of the Cold War. In a different war, I finally also watched the amazing Colditz (1972-1974) by Brian Degas. Anthony Valentine managed to outdo his semi-villainous role as Meres in Callan, this time as the cold Major Mohn. I've never seen an actor's face remain so inhumanly still.
Perhaps the most unnerving thing watched was Wilfred Greatorex's fantastic dystopian drama 1990 (1977) starring Edward Woodward. Aside from daily falling in love with Barbara Kellerman and Lisa Harrow, the series displayed a refreshing spin on authoritarian drama, with its powers being left rather than right leaning. Even if it did leave me wondering just how many of my friends would ultimately support the actions of the Public Control Department, it was a hugely enjoyably watch.
In terms of more singular series, alongside Out, I thoroughly enjoyed Lawrence Gordon Clark's Harry's Game (1982). Adapting Gerald Seymour's novel, it made me wonder why Clark wasn't held in the same league as other great television directors of the period. I'd certainly rather watch his work than that of the more respected of television directors. Alongside this, I also enjoyed Alun Owens' trilogy Male of the Species (1969), John Hopkins' Talking to a Stranger (1966) and Philip Saville's direction of Gerald Savory's Count Dracula (1977).
Best of all, was the brilliance of Public Eye (1965-1975). It took an age to find a copy of Network Release's A Box Called Frank but I finally did earlier in the year. Frank Marker (Alfred Burke) became a quiet sort of friend that got me through 2021 more than anything else. Every series provided something new; those everyday humdrum stories full of small dramas and chocked with the absolute best character actors of the day. If I still have any literary ambition left after the next book, it's to get some of the series' many missing episodes novelised à la Target books. If only it was 1976.
My Work
It's been an odd year for work, feeling simultaneously manic yet empty. I've spent a fair amount of time finding film locations for the British Film Institute, in fact travelling to find more than I have in any other year. Along with a few new turns in front of the camera chatting about films for Studiocanal and Arte, as well as doing a variety of things for several home releases (including my first audio commentary), the vast majority of my hours have been spent writing and editing books. It has undoubtedly been a tiring year. Anyway, here are five articles I was happy with from 2021.
I won't be sad to see the back of 2021, and I hope, with Nettles coming out in April next year, it'll be with doubly good reason.